5 lessons wholesale banks can learn from retail banks
#
The standard for customer experience in retail banking has been raised, as modern updates to retail banking have enabled customers to enjoy increased convenience and easy access to financial services. "The world of financial technology is changing faster now than ever before," says Ian Kerr, Director of Business Development at E6. "There are alternatives to legacy tech constrained banks and those alternatives will impact wholesale banking. To get ahead of the curve, wholesale banks can start implementing complementary technology for innovative solutions and the ability to take new products to market, especially for their SME customers."
As the focus in banking shifts towards seamless customer experience, dynamic solutions, and personalized offerings, wholesale banks can look to retail banks to best serve SMEs.
Top 5 lessons wholesale banks can learn from retail banks:
1. Make capital more readily available
SMEs often face challenges in securing lines of credit and working capital from banks, and ultimately seek out funding from third parties. Wholesale banks can close this gap by offering credit to SMEs, capturing a greater market share while providing an enhanced customer experience. "Just as in retail banking and what we're doing with Buy Now, Pay Later, the organization that's best placed to make a credit decision is an SME's primary banking partner," says Kerr. "They have access to the financial history and transactions, and they can apply the technology to offer working capital solutions."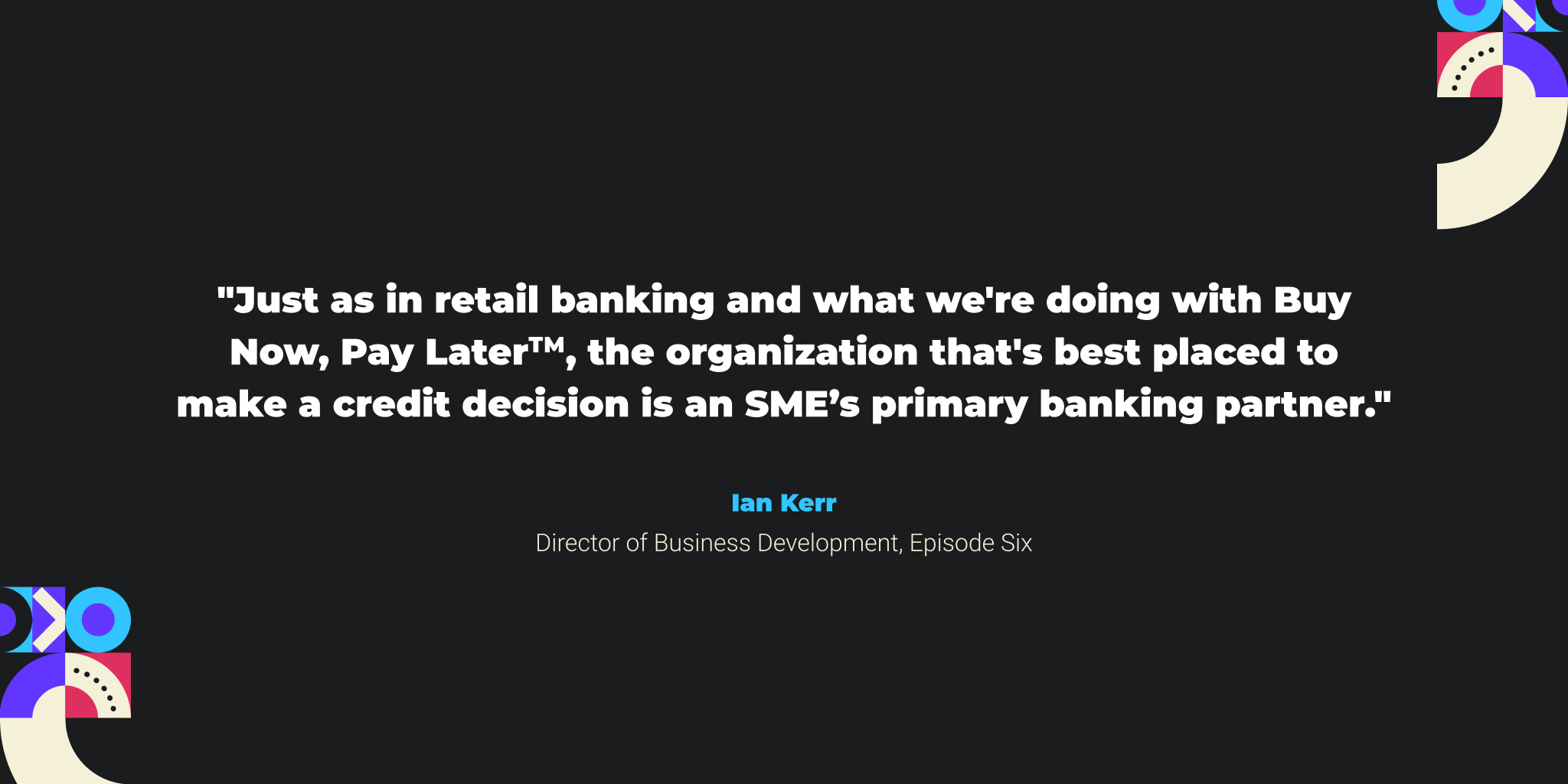 2. Adopt a user-centric approach
In the era of smartphones and real-time transactions, customers expect an easy, user-friendly experience. Retail banks have upgraded their user interfaces, making banking operations easy and just a tap away. Wholesale banks can follow this example and prioritize customer experience, simplify processes, and make banking overall easier for SMEs. By offering intuitive interfaces and streamlining services, wholesale banks can increase customer satisfaction and build lasting relationships with SMEs. "Business owners don't want to be messing around with filling in laborious applications for new lines of credit," says Kerr. "They want to just make it happen, and wholesale banking can learn how to offer that experience from retail banking."
3. Offer proactive cash-flow management
Retail banks have excelled in proactive cash flow management, helping customers anticipate and navigate financial challenges. Wholesale banks can leverage their expertise and transaction data to provide valuable insights to businesses. By using machine learning technology, wholesale banks can identify spending patterns, and predict and flag cash shortages.
4. Provide personalized offerings for end-to-end process flow
By adopting the customer-centric offerings of retail banks, wholesale banks can provide much-needed services to SMEs and deliver streamlined, end-to-end process flows. Wholesale banks can leverage their unique position of having insight into the cash flow and transaction data of SMEs. "Wholesale banks can say to their SME clients 'Based on our understanding of your history, we can see a cash crunch coming up. Why don't we take the upcoming supplier payment that you've now got, and we'll split that into installments for you and ease the cash flow,'' says Kerr. "Then you're offering an end-to-end seamless customer experience." By analyzing and applying data, banks can offer personalized and proactive solutions, helping businesses manage their cash flow effectively while cultivating loyal banking relationships.
5. Incorporate API enablement for increased offerings
Retail banks have successfully opened up their capabilities through APIs, enabling seamless integration with third-party applications and services. Wholesale banks can follow suit, allowing their products and services to be accessible via APIs. API enablement fosters collaboration and creates a more interconnected financial ecosystem. By enabling API enablement, wholesale banks can tap into new opportunities and offer improved, modern transaction banking services for SMEs.
How can Episode Six help wholesale banks provide a better experience for SMEs?
E6 enables wholesale banks to enhance their clients experience by providing these key services:
1. Accelerated speed to market
E6 offers accelerated speed-to-market for products that pivot around transferring value between parties. You can get products like BNPL and virtual cards up and running quickly in your banking platform.
2. Make adjustments in real time
Configuring your new products is easy, and can be done online in real time, without having to wait for software development cycles.
3. Add-ons without disruptions
E6 add-ons are non-disruptive and can coexist with your environment, without unnecessary changes to legacy applications. That means integration with existing and evolving technology stacks happens within your platform. You can offer customers new, future-ready services without disrupting your existing systems.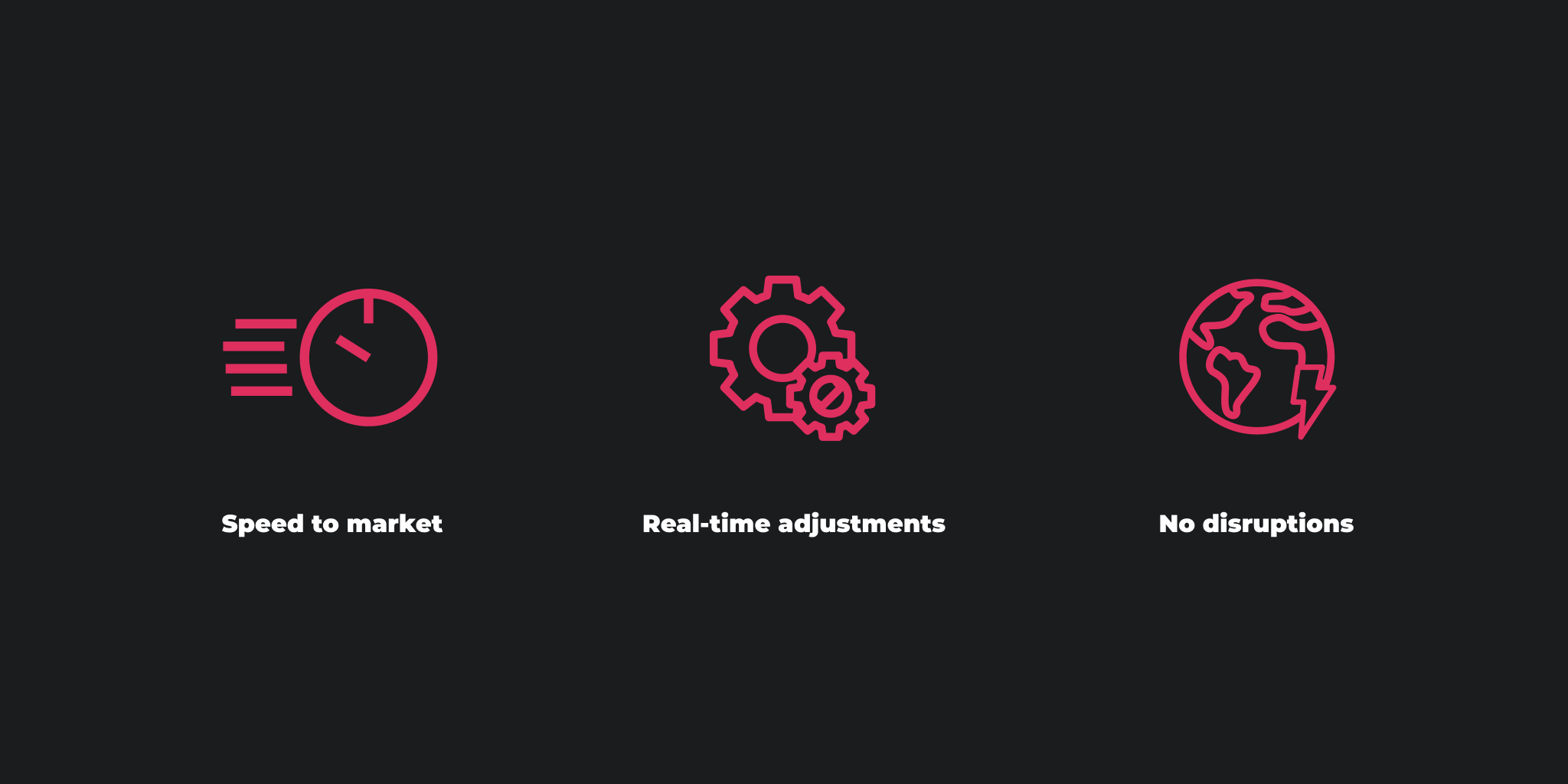 Ready to modernize your platform and deliver new dynamic solutions to your SME clients?
Contact us to see how we can help.
E6 Team
About the Author
Episode Six provides financial institutions with solutions for legacy payment stacks that aren't fulfilling the needs of an expanding industry. We are a global provider of enterprise-grade payment technology and ledger management infrastructure for banks that need to keep pace with disruptors and evolving consumer preferences.