Business Now, Pay Later™ Q&A with Brian Muse-McKenney, CRO
#
Why should banks care about Business Now, Pay Later?
Small and medium-sized enterprises (SMEs) are the lifeblood of economies, and working capital is their most pressing need. Market research shows that 89% of SMEs today are considering alternative providers to their primary bank, as SMEs are looking for flexible credit solutions and repayment options to help their business thrive.
Banks are best positioned to meet the need of SMEs, and Business Now, Pay Later helps banks meet this need in a new and compelling manner. E6 has taken the innovative spirit of consumer installments and industrialized it by strengthening the proposition and making it fit-for-purpose for commercial banks and their clients.
Banks can now offer their SME customers tailored installment products, directly in their business banking channel. Integrating the solution into the client channel enables the bank to offer a true one-stop shop for SME cash management needs, which current alternative offerings cannot match.
The solution empowers banks to prudently manage risk and controls by offering lending products based on the SME's risk profile and the bank's risk appetite. With this product, banks can then dial their lending growth up or down in very focused and tailored ways, which gives them unprecedented control over the strength of their balance sheet.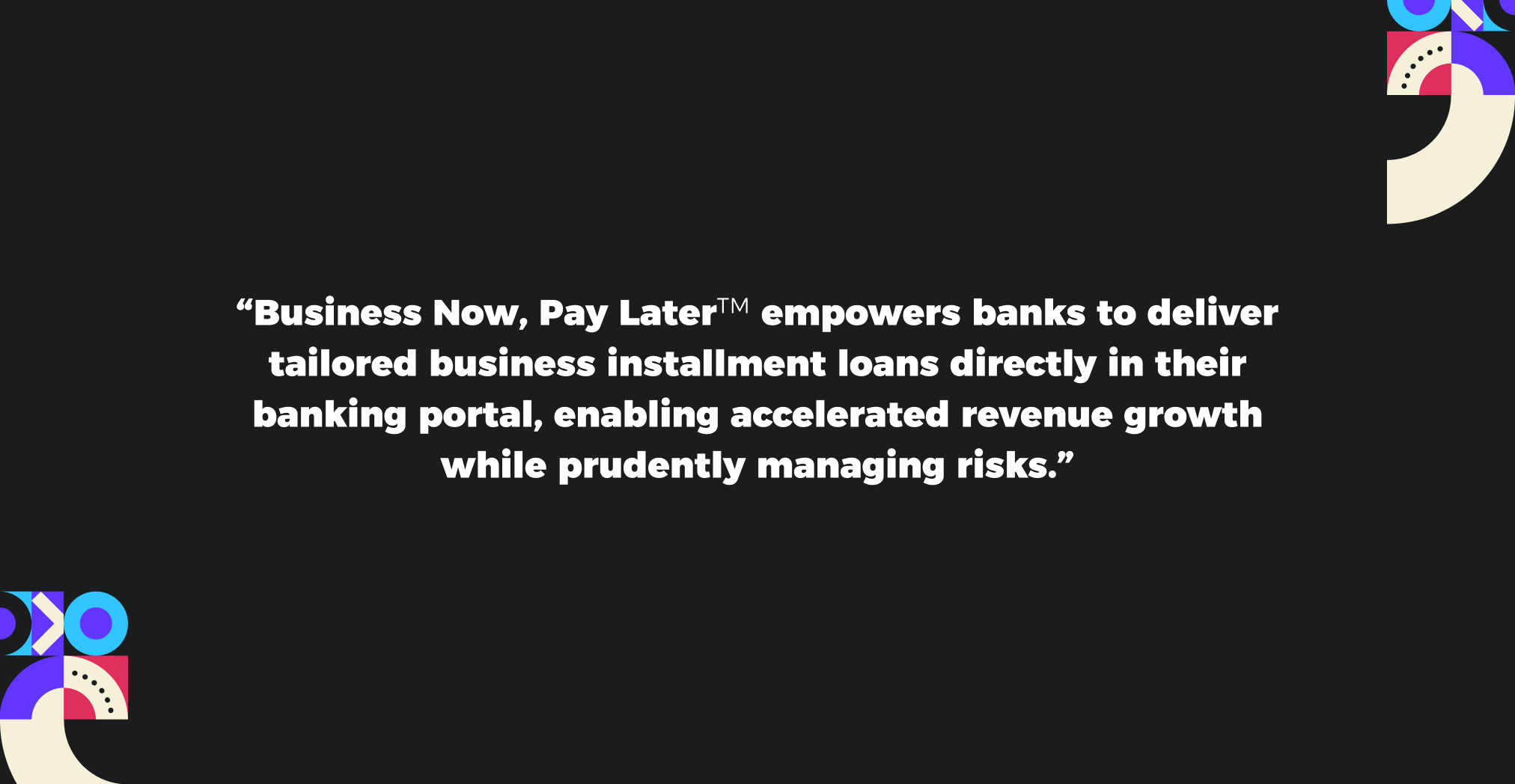 What pain points does Business
Now,
Pay Later solve?
Historically the bank's pain point is that they have limited financing and lending products for SMEs, typically standard overdraft facilities and term loans, all of which usually require extensive administration with little flexibility on pricing and controls. In addition, banks are challenged with legacy lending and core banking systems that are difficult to modify in a timely and cost-effective manner in order to respond to market needs.
With limited lending options provided by banks due to these types of limitations, SMEs are increasingly looking to third parties to secure financing. So, the bank is missing out on revenue opportunities, while risking larger client attrition.
However, banks want to deliver a better service to SMEs, and in doing so develop deeper relationships that generate more revenue. Business Now, Pay Later gives banks a way to do that with a turnkey solution that does not require complex and lengthy core system replacement, instead operating as a sidecar that enables speed to market and customer growth.
The SME pain point is that they seek short term financing to give them more flexibility in their working capital lifecycle, but higher interest rates and an uncertain economic outlook makes securing these loans more challenging and expensive. Ultimately, SMEs would love their bank to offer flexible financing through one integrated experience, rather than seek solutions elsewhere and not have their needs met or having to pay overly expensive rates that impact profit margins.
With Business Now, Pay Later, commercial banks will be in the best position to offer SMEs the financing they need, when they need it, at suitable terms. This creates a win-win for all stakeholders.
What key factors should banks know about E6's Business Now, Pay Later product?
It's the first of its kind.
Business Now, Pay Later empowers banks to deliver tailored business installment loans directly in their banking portal, enabling accelerated revenue growth while prudently managing risks. Now banks can offer installments before, during, and after the purchase, and over any payment rail, such as ACH, real-time payments, wires, or even card purchases. It's agnostic to the payment type and flexible at any point in the payment lifecycle.
Business Now, Pay Later provides the tools to set repayment terms based on risk profile, risk analysis, and risk appetite for each customer or customer segment. You can also differentiate what level of fees or interest rates the installments will come with, whether it's a deferred installment or a split payment installment.
Business Now, Pay Later equips banks with essential tools to tailor repayment terms according to individual risk profiles and preferences, thus providing SMEs with greater financial flexibility and control, while simultaneously empowering the bank to grow their balance sheet with strong risk management and controls.
What does the future hold for Episode Six's installments solution? What's next?
Business Now, Pay Later is fully live and operational, and is powered by E6's cloud-native TRITIUM® platform. Designed and built for banks, TRITIUM offers banks technology that provides industry-leading performance and maximum flexibility, with everything in real-time.
After implementing Business Now, Pay later, the power of this modern technology means that banks can rapidly add new products and use cases, such as card issuing, virtual accounts and wallets. Each of these products can be configured and combined with our Business Now, Pay Later solution, such that tailored installments can be seamlessly offered to any customer using other products like cards and wallets.
By partnering with E6, banks can quickly create new bespoke payment products that their customers will love, driving customer satisfaction and revenue growth.
E6 supports popular digital wallets, including Apple Pay, Google Pay, and Samsung Pay, offering seamless integration and enhanced security for card tokenization. With advanced card tokenization and token management capabilities, cards issued on our digital wallet platform can be easily tokenized and used for secure contactless payments. E6 ensures that customers can enjoy the benefits of these popular digital wallets while keeping their payment information safe and protected.
Accelerate revenue growth with Business Now, Pay Later™. Contact us today.
E6 Team
About the Author
Episode Six provides financial institutions with solutions for legacy payment stacks that aren't fulfilling the needs of an expanding industry. We are a global provider of enterprise-grade payment technology and ledger management infrastructure for banks that need to keep pace with disruptors and evolving consumer preferences.